Hi there! I'm pleased to have Melissa from
Melicious
guest posting today. She has put together a great collection of cute Spring outfits which you Northern Hemispherians could easily apply to your approaching Fall as well! I hope you enjoy, you should visit Melicious and say hi! I'll hand over to Melissa now :)
For those antipodeans who have, like me, been suffering through an absolutely freezing winter, it may seem unthinkable that Spring is just around the corner. Unthinkable, and yet I can't stop thinking about it! I am already planning my Spring outfits, and find myself spending hours online staring lovingly at flippy, floral summer dresses and transeasonal cargo coats.
And for those of you who have been enjoying warmer weather, but your climate is gradually cooling down, you can look fondly upon these outfits and remember times that once were.
An outfit for Saturday morning brunch...
Is there anything more delightful than Saturday morning brunch with your girlfriends? Tall glasses of juice, fried eggs on sourdough toast, and an entire morning of gossiping. The best brunch outfits are comfortable and low-maintenance, while still showing off a little personal style. I love this jersey singlet and maxi skirt from ModCloth. Pair your outfit with some dainty flats and jewellery, and a roomy tote bag – just in case you want to fit in a sneaky shopping sesh afterwards!
An outfit for a picnic party...
One of the best things about the weather getting warmer is that you can finally, you know, go outside again! I love picnic parties, and not just because you get to eat delicious fruit kebabs, mini cucumber sandwiches, and decadent cheeses. I also love the fact that they provide the perfect opportunity to get all dressed up in your best cotton frocks, and take many photos in the sunshine with your best friends. Try a typical plaid dress, cute wedges (so that you can still walk on the grass!), and swap your handbag for a picnic basket packed with treats.
An outfit for Spring showers...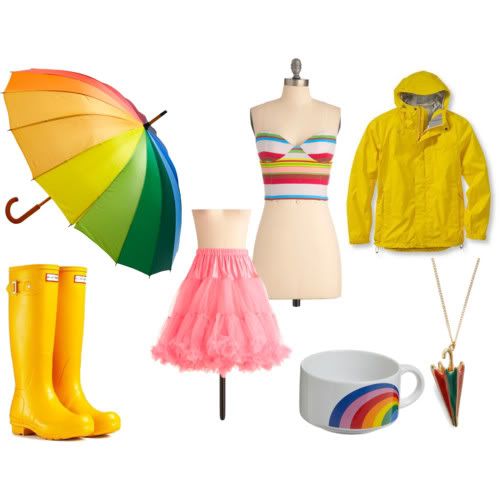 Another one of my favourite Spring pastimes… jumping in puddles! Seriously, it's such a surprisingly satisfying experience. But I imagine that jumping in puddles is even more fun when you're dressed in appropriate attire! My socks are always getting soggy. Prepare for the tempestuous weather by protecting your brightest, frilliest frocks with a cute raincoat, gumboots and umbrella. Extra points for effort if you manage to find a necklace that matches the umbrella!
An outfit for an evening garden party...
As the evenings warm up, evening garden parties are bound to increase! Invest in a poofy, foofy (yep, foofy) fancy dress, and then you can spruce your outfit up with any number of patent heels, glittery clutches, cocktail rings, and sparkling brooches. Just imagine dancing the night away beneath fairy lights, sipping on champagne with strawberries – and knowing you look fabulous while doing it.
What are you looking forward to wearing when the weather gets warmer? Or colder, if you come from that part of the world?