I love me a good handmade dress! This one is from Perth, Australia and is just one of many amazing dresses available in the Kissyface store. If sailboats aren't your thing (huh?), you can find all manner of wonder prints from polka dots, cats and even some lobsters! I want one of everything please.
Indoor plants are so wonderful. They make your space feel more bright, they clean the air and add a nice, natural piece of outside to the interior of your home. Then why don't I have more? I just need to get out that drill and start installing my hanging system! These tiny pots are so cute, and perfectly sized for some air plants.
This crazy cat lady will always be sucked in by a cat gimmick. I've seen a few versions of these cat-ear rings around, I like the simplicity of this one. This one is made to order in Canada, especially for you :)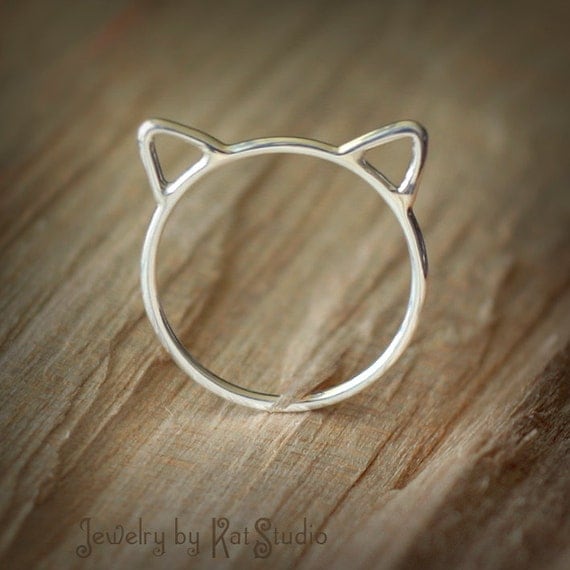 Cute photo idea, making the most of what you in your immediate vicinity, with these 'Bedscapes' by Skott Chandler. This one is the Atlantic Ocean.
Is anyone out there more skilled at knitting than me? I'll clarify, anyone who can knit something more complicated than a scarf? I'd love to try these socks, though I need to polish my skills a teensy bit more I think... It'll be winter in the northern hemisphere before you know it, and imagine sporting these lovely fellows by the fire?
Once again, these posts are a little older than the past week, but I'm sure some of you out there will appreciate them (a lot). Over at The Alison Show, Yao is sharing her watercolour skills in a series of tutorials. There are two right now, an
introduction covering basics and supplies
, and a
blending tutorial
. I can't wait to try these out!
What's happening this weekend? I'm going to try and relax, myself. I have so much to do, it's slightly overwhelming, so I find the best tactic is to stop thinking about it and my body will just start doing it. Do you know what I mean? Sometimes I think I am appositionally defiant to my own to-do list, so ignoring it tricks my brain into getting it done ;)
I hope you have a great weekend, whether you're playing tricks on yourself or just having a good time.
Kitty
xo